Weather and climate of Andalusia

Andalusia has an excellent climate for vacationers except in the months July and August in which it can get extremely hot. The maximum temperatures are then around 40 degrees, a thing that is not inviting to everyone. Otherwise there is no time period that would not be suitable for a journey.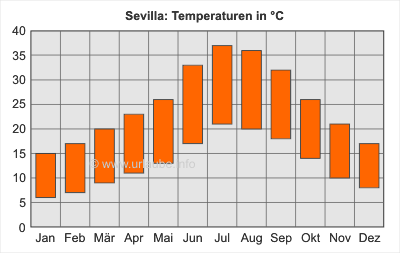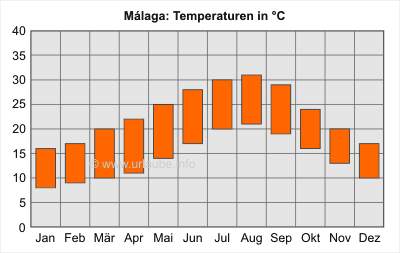 Speaking about the climate of Andalusia, there is to consider that there are different regions where there is also a different climate. The famous Costa del Sol, the sun coast, has a very pleasant Mediterranean climate with a lot of sunshine and pleasant temperatures, whereby during the winter months from December up to February, the water temperatures are surely much too cold for bathing. During the winter, the Atlantic coast is a little cooler, but at both coasts, there are pleasant temperatures for hiking tours and for the leisure activities.
In the mountaineous regions, it is more pleasant in the summer time as in the extremely hot lowland, and in the winter it gets relatively cold. In the altitudes of the Sierra Nevada there is at least during the winter semester some snow, those who want to ski are right here. In the hinterland of the coastal region it is very hot and dry in the plains during the summer time and in the remaining time the climate is pleasant, the sun shines oftenly and there are moderately rainy days.
The best time to travel is during the spring and the autumn, when the temperatures are acceptable and oscilate between 25 and 30 degrees. The nights do not get extremely cold, so that the temperatures are relatively balanced. The landscape is not that desiccated as it is the case in the summer time where there is a complete dryness. There are only few rainfalls, but they permit the nature to remain green .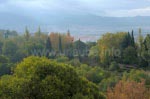 Winter time is also travel time in Andalusia. Except in the higher mountaineous regions, there is no snow or minus degrees. In a range between 12 and 19 degrees, the temperatures are suitable for hiking, the night temperatures barely sink below cero; Also rainfalls are rather seldom, so that also the winter is an acceptable season for tours as long as one does not want to bath.
Even though Andalusia is one of the hottest regions of Europe, one should not underestimate that during the autumn and the winter it can get really cold there. But if one experiences one of the few rainy days with a strong wind , it will get cold. One should never abstain from taking a warm jumper and sturdy clothes to Andalusia, even though one is in the immediate proximity of the "Sun coast".
We had experienced some days of this unpleasant weather and were happy to be equipped for this eventual period of bad weather.