Stockholm - City Trip in the capital of Sweden
By land and by sea through the pearl of the north

Stockholm is the city of the islands, the water and the nature, the gorgeous buildings, museums and parks. But at the same time it is also the city of shopping miles, restaurants and bars, the means of transport, neon lights and fastfood-chains. But those who travel to Stockholm, either in the summer or, as our travel group consisting on seven persons, in the winter, will be introduced to a city that indeed has the life of a European capital but still transmits in many spots an unbelievable calmness.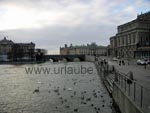 Of course it is very international; backpackers depart from Stockholm to the north, suit wearers bustle from buses and trams in other ones, tourists from all countries inhabitate the city up to late at night and over all this hustle and bustle and a blue-yellow flag is flapping everywhere. The ways between the sightseeings of Stockholm are very good to reach on foot and are full of impressions, the public transport system is perfectly coordinated and either people who are interested in culture as also lovers of nature and night owls get their money's worth.
Moreover, Stockholm shines with diversified holiday offers that either focuses on children as also on adolescents and adults. More of that is written in my following travel report. Immerse with me into the pre-christmas Stockholm that in December it is also the city of lights, flames and christmas markets.
Index
Geographical Situation
Weather and Climate
The history of Stockholm
Arrival
Accommodation in the Best Hostel Old Town
Our journey from Düsseldorf to Stockholm
The historical city centre
Storkyrkan
Shopping alleyways
Royal Palace
Parliament
City Hall
Aquaria Water Museum - From the Jungle up to the Deep Sea
Wasa-Museum - A Trip back to the Times of the 30-Year-World
Junibacken - With the fairy tale trail through the Astrid-Lindgren-World of Adventure
Skansen-Aquarium
Gröna Lund Tivoli
NK-Department Store
Pedestrian Area Drottningsgatan
Royal Sepulture Church Riddarholmskyrkan
Opera Building at the Strömgatan
With the Tourist Boat through the Waters of the City
Mini-Island Kastellholmen
Cirkus
Animal Park
View Tower
Glenn Miller Jazz-Café
KGB Bar & Restaurant
Soldaten Svejk
Skeppsbar / Zum Franziskaner
Public Means of Transportation