Stay Over Night, Hotels in London

By booking an all-inclusive tour, the problem is already solved, as the respective accommodation is a part of the package. But if one arranges the trip by oneself, no matter if through the internet or a travel agency, the question of which kind of accommodation to choose comes up.
Accommodations in London
In London, one can get all kinds of accommodations, from the most simple room up to a luxury and sophisticated accommodation. But all these accommodations have one thing in common, as none is really cheap. Even the most primitive accommodation costs some good money. Thus, in London, one will rather not be able to have a bargain holiday, but by searching respectively and with a little luck one will find some acceptable accommodations for more or less bearable prices.
A very simple vaiant is the B&B, thus Bed & Breakfast. These rooms are partly offered by private persons, partly in simply pensions. Oftenly, they have in common that the guest does not have an own toilet and bathroom, but has to share it with some other rooms. If this is not disturbing to one, one will find a cheap variant of accommodation. If one wants a separate toilet and bathroom in the corridor, one will have to pay more and it gets more expensive by having an own toilet/bathroom that is straight connected with the room were one sleeps. The advantage of the category B&B are the familiar circumstances and the resulting tips and help one often gets for the stay in London. Oftenly, the disadvantage is that and one does not have, as it is for example the case in an hotel, a certain time margin for having breakfast.
The hotel's categories are from a simple hotel up to a five star hotel. But the distribution of the stars can not be compared with the german one, a 3 stars hotel in London can be still very simple and offer low service. Specially during the main season it is very hard to find an acceptable hotel room with a good service for comparatively cheap prices. Those who can get the respective tips from friends or known people should make use of it in any case. An intensive search on the internet makes also a lot of sense, but thereby one should thoroughly check every detail; We do not want to discourage people. Visit London without fail, it is surely worthwhile. But the world city London has such a touristical demand, that some offerers and hoteliers do not make a big effort. Thus, it is better you double check before choosing, then the visit to London will be a real experience.
Travelodge Farrington
During our last tour, we booked an accommodation in the Hotel Travelodge Farrington. The hotel is situated at approximately 5 minutes walk from Kings Cross Station. Traffic wise, this is very advantageous, as there are several possibilities to change the tube at this station and some bus lines also stop there. By this way, one gets in approximately half an hour to the city centre with the most important sightseeings. What is a disadvantage of this sitution is that it is located at a main road with the respective traffic noise. But this will be in most of the localities of London.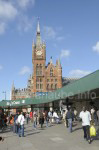 The hotel itself is a modern functional building, not very nice, but this is surely not very important during a city tour in which one wants to know the highlights of the city. The prices for staying a night over including breakfast are moderate for London. The rooms do not offer any luxury but they are very functionally arranged. There is also a bathroom and/or toilet; A nice extra is the water boiler in the room. Additionally there is tea, coffee, milk and sugar. At least it should be available, as in some days, the supply was not refilled, so that we had to get our "refill" from the breakfast room; Generally, we could not claim about the cleanliness.
The breakfast that is included in the price is an English one, thus the famous "bacon and egg" and additionally the wobbling sausages, mushrooms and tomatoes, toast and jam. Desisting that the central European will miss a real roll or brown bread latest after some days, this breakfast was quite ok. The personnel was also continuosly providing fresh supplies, so that there were no bottlenecks. Coffee, milk and tea was any time available from the automat.
The breakfast room was as charming as a cantine, but we also considered this as secondary, as we did not spend much time there.
But there was a problem in the hotel. Due to unknown reasons, the windows were locked and could be only opened ajar. According to the fixed signpost, this was a measure for the security of the guests, for wahtever reason.Finally, nobody could enter through the window of the 3rd floor and it was rather inprobable that a guest would plunge out of the window. Due to this, the room was always quite heated and muggy, also when the outdoor temperature was moderated. We prefer not to imagine how this would be during an eventual heatwave, as the hotel was not air-conditioned.
Thus, alltogether one can say that Travelodge Farrington is not an insider tip, but considering the circumstances of London is is fully acceptable in its price category.