Viewpoints in Zurich

With a height of 409 metres, the city Zurich is relatively low situated for Swiss standards. But instead, there are numerous viewpoints from which the city can be enjoyed in all its glory. The probably most romantic viewpoint is also the most easy one to access which is the Lindenhof at the western sore of the Limmat. From this little place there is a nice view to the old town and to the lake.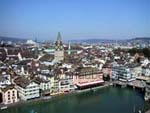 But both spires of the St. Peter and the Großmünster are more interesting. In order to clamber the observation decks, there are indeed many stairs to climb but then one is rewarded with a breathtaking view. The complete city centre is visible, the river, the lake and at a favorable sight, even the mountains at the background are visible. Contrary to the other viewpoints, from the spires there is the advantage to be in the very city centre so that one can watch the city's life from the next proximity.
The highest point of the city is the Ütliberg with a height of 871 m. This local mountain of Zurich is accessible with the rapid transit railway line number 10 departing from the main station. The trains depart every 30 minutes. From 450 metres above the city, one has a gigantic view over the whole of Zurich, the picturesque hinterland and the Alps with a height of more than 3.000 metres.
For those who do not want to go that high i reconnend the UBS-Polybahn. This aged railroad goes straight from the Central (approx. 500 metres at the east form the main station) to the poly terrasse, where the university institutes are located. From there, one can unhurriedly enjoy the view to the city.
But in order to get a view to the city, it is not neccessarily needed to get at a very high point, as from the bottom, the city is very attractive. Those who grant themselves a round trip over the Zurich lake (starting right at the lake) will be rewarded by some beautiful sights to the lake shores, the mountains at the south and the city at the north. It is also possible to explore Zurich from the river by booking a little trip through the Limmat.