Eating and Drinking, Specialities

Madrid is a city for real gourmets: other big cities as for example Paris are also famous for being the top culinarian cities; but only a few cities can compete with Madrid. Despite of the fact that Spain's capital is centrally located and therewith a few hours distant from the sea - there is anyway the best fish of Spain available with which many restaurants are daily provided, even by air freight. The same applies to seafood.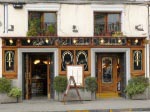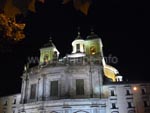 Those whose favourite food is meat will probably stay a longer time period in Madrid in order to try everything. Also the abundant offer of appetizers and sweeties is hard to resist - but this is a thing that is not a real problem as one also earns some culinarian enjoyments after the many sightseeings and tours.
Tapas y Raciones
What for english people used to be the tea, for the Chileans the Empanadas and for the Americans the Coke and Hamburgers is the Tapas for the Spaniards and specially for the Madrileneans.
Originally, the "Tapa-culture" (Tapa means cover) comes from Andalusia where the glasses were covered with a snack so that no flies could get into the drink. This habit increasingly developed in the course of the time and meanwhile, it achieved a gourmet-status. By this way, the most daring creations of tapas and appetizers are offered, starting from a little plate of calamares (fried calamaries) to pickled olives or a small portion paella up to artfully topped rolls.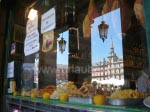 Many times one gets the appetizers for free in addition to the ordered drink; but it is also possible to get a tapa selection in order to satisfy the small hunger. Those who are more hungry and do not feel that a tapa would be enough can order a Ración (portion), that most of the times is meant for several people. This is also the today's significance of the Tapas and Raciones: sharing the food with others in order to enforce the sense of community. Also the bill is not paid individually by everybody. Previously, people put their money together and give the waiter the total amount.
Of course, it is possible to "dine really" in Madrid; but nevertheless, one should try in any case some of the viands, not least due to the wide range that is offered. Those who leave Madrid without having tried a tapa on a terrace on a warm evening have missed a very important element of the Spanish and/or Madrilenean culture.
From Bocadillo up to the famous Paella
What do think people at first by hearing "Culinary Viands from Spain"? The majority will surely think on the famous paella that actualy comes from Valencia and not Madrid; Nevertheless, it is one of the favourite dishes of the Madrileneans and their visitors. In touristical areas, one will repeatedely come across to restaurants that offer paella - but it is probably better to look for a less conspicuous restaurant that is not so much focused on the tourists but are more carefully in preparing the paella.
The Bocadillo and/or Bocata as it is sometimes named, does not have the same significance as the tapas do but it is as famous. It is a sandwich of white bread that is topped with for example cheese (Queso) and/or cheese and ham (Jamón - Queso), haunch (Lomo), calamares or, very healthy, with tomatoes, lettuce and cheese.
Meat lovers will be delighted in Madrid; vegans will have some difficulties. In the centre, there is a Museo de Jamón ("Ham Museum"),in many streets, but it is rather a butcher than a museum. Here, one has the possibility to try all different kinds of ham that, according to the ham lovers, are "incredibly tender, full of taste and irresistible".
Callos a la Madrileņa (tripes prepared in Madrilenean style)is a madrilenean dish that one surely needs to get used to, as it contains offals as main ingredient. Those who like hearty meals but want to abstain from offals will probably like the stew Cocido Madrileņo: a stew consisting on noodles and garbanzos that were cooked with beef, bone and bacon and white cabbage.
A very simple dish with tradition is Lentejas con Chorizo, lentiles with the Spanish chorizo-sausage. This is probably rather not something for gourmets as the Callos a la Madrileņa, a preferred food in the countryside, as the preparation of it is simple and one is really stuffed after that.
Dishes like the Tripa de cerdo (pork belly) and Orejas de cerdo a la plancha (barbecued pig's ears) are supposed to be less hearty. As the case may be, they are garnished with tomatoes, garlic, and parsley; What is very popular as a tapa or side dish is the Morcilla - blood sausage staffed with rice. I never tried it, but the Spaniards adore it.
Vegetarians can breathe a sigh of relief: in Madrid, salads are oftenly prepared with a lot of imagination. It is rare to get some lettuce leaves with simply a dressing but rather a creation of tomatoes, olives, sometimes an egg and tuna or avocado. What is rather popular but rather rare are the Migas with salads - small pieces of bread fried in oil with a taste of garlic . But the ingredients do vary depending on the bar and/or restaurant. What could be also interesting for vegetarians is Pisto, a creation of pepper, tomatoes and onions - even convinced meat eaters are enthusiastic to that.
What is equally popular among the meat eaters and the vegetarians are the different variations of potatoes: the patatas bravas (Hot potatoes") - fried potatoes in a very hot sauce, the patatas a lo pobre ("Potatoes prepared in poor style") - potatoes that are prepared with garlic, parsley, pepper and olive oil and very famous: the Tortilla de patatas. It is about a kind of omelette with pieces of potato, a thing with which people also like to top a Bocadillo.
As modest as the Madrileneans are in their breakfast (most of the times an espresso or coffee with a cigarette), the lunch and/or dinner is the more sophisticated with several courses and most of the times also a desert. This can be something from pudding to cake up to fancy desserts.
By the way, specially the young Madrileneans feel a strong hunger after one of those countless party nights before they go to bed around 8 o' clock - the far most popular nightcap leads to a Chocolatería, where one can have the famous Churros con chocolate. But also as an afternoon snack or second brekfast, the deep-fried piped biscuits are recomendable, but in moderated amounts.
Popular Refreshments
In Madrid one will notice soon that as in other countries, a bottle of wine for lunch and/or dinner is a matter of course as also the water is that, as tap water, is always free of charge. To the contrary, mineral water is rather rare on the menue card.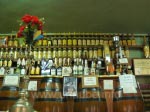 In the summer time, people also like to drink the wine in different variants: The Tinto de Verano ("Summer- red wine") - a mix of red wine and sweet fizzy water with ice cubes - and, of course, the Sangría, that tastes in Spain incomparably refreshing and fruity. As a first course, the Gazpacho is very popular, a cold vegetable soup which origin is in Andalusia. It oftenly consists on tomatoes, pepper and onions cubes with fried pieces of bread (Migas).
No matter if before noon time with the first tapa, with the lunch or in the evenings: the Caņa (small draught beer) is almost always thereby; As popular is the Calimocho in the evenings, a mix of Coca -Cola and wine. And in order the coffee is not too hot in the summer time, the Spaniards have invented the Café con hielo - coffee with ice cubes.