Going Out in Vienna - Restaurants, Bars, Cafés

By thinking of the cuisine of Vienna, who does not immediately think on Wiener Schnitzel, a Tafelspitz, a Saftgulasch, Kaiserschmarrn, Sachertorte or Palatschinken? No matter if hearty or sweet, in Vienna, one gets in any case his money worth and also the related calories. But anyhow, it was not that easy to find a good restaurant in the centre of Vienna.
If one does not want to dine in the own hotel, one of the expensive fancy restaurants or in a fast food restaurant, it is hard to find a restaurant one can visit on a daily basis to moderate prices and good quality. As we were not familiar with he city, we just started to walk from our hotel in direction to the city centre. Unfortunately, we had to walk quite some distances until we found the following restaurants that were more or less in the proximity.
It was really hard to dine out in Vienna. It almost appears to me that there are not enough restaurants for the numerous inhabitants of the city and the millions of tourists. During the search for a restaurant in the evenings we partly walked some kilometres in order to find some aceptable restaurants but most of them were overbooked and reserved.The best is to reserve a table, but as a tourist one simply wants to start walking in order to find a good and cosy place to dine.
Intenso: Italian Restaurant & Bar Lounge
The Italian restaurant Intenso does surely not belong to the most traditional houses of Vienna but we were so pleasantly surprised of it that we went twice there for dining. It is located in Vienna at the Opernring 19, at only a few minutes walk from the Hotel Le Meridien. From outside one can see through a large window front the comfortable arranged longue area of the lower floor with leather armchairs.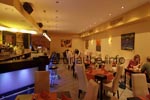 The ineterior arrangement that seemed at first sight to be very modern and stylish resulted to be very comfortably too. Specially the chairs of the upper restaurant area with padded backs really felt good after having made some long tours for viewing the city. The absolute highlight was the piano player who successfully provided a comfortable atmospere with a competent improvisation of genuine Jazz, with which the dinner ws supposed to be a small festive act. There, we immediately knew that it was going to be a longer evening for the case the food would be good. And it was not only good - it was delicious!
From salmon carpaccio wit ruccola and red peppercorns to penne al barolo with fillet in barolo red wine sauce, ruccola and fresh grana or saltimbocca alla romana: natural veal escalope with salvia, prosciutto and fresh vegetables.It was not only simply Italian, everything also had something smartish and specially tasty, a thing that we did not expect due to the moderate prices, as outside we saw the weekly table offers and were first a little sceptical, as it almost seemed to good to be true.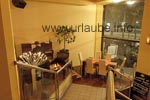 Also the service personnel was not only friendly but also attentive in a plesant way without being intrusive. Finally, we were invited to have a tasty grappa after we drank a bottle of Australian Shiraz/Cabernet at a moderate price that matched as well as we wanted to. Unfortunately, after the dessert and coffee we were so stuffed that we could not try any of the delicious looking cocktails of the happy hour.
Conclusion: those who want to enjoy fine Italian cuisine in an easy and friendly atmosphere and in an interieur that is still cozy after hving spent there a few hours will be very surprised specially by the moderated prices of the restaurant Intenso. Afterwards we were informed that this restaurant recently opened 6 months ago. We wish this poeple from Intenso that they keep providing this quality to their guests also after a longer period of existence. For us it was anyway fantastic to feel the enthusiasm with which the personnel performed the concept of service, atmosphere and of course good food. It was very impressive and worthily. By the way, beside the classic Italian food we could have also had a Wiener Schnitzel there.
Barbaro: Italian Restaurant & Café
The Barbaro is located in the city centre of Vienna right at the Neuer Markt 8. The evening we were asking for a table for two without having made a previous reservation, the Barbaro was packed. We got a little table at the very corner right before the kitchen, which serving hatch opened any minute with a short but anytime hearable bing or also a bing bing bing, so that from any direction a busy waiter ran there to get the plate on his arm and we only did not feel like in a bavarian beer tent because we were drinking some red wine and ate some Italian gnoccis. This busy atmosphere or better said business atmosphere was the thing with which we had to cope at first.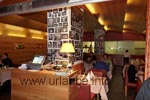 The face of the waiter got more friendly when it was clear that we wanted to order a bottle of wine and several courses. The prices of the wine card were more than steep, a thing that did not impress us. The desserts were extraordinarily good, thus, the tiramisu and even more the plum parfait were simply delicious! The food before that was in total quite tasty, also if, for example, the duck liver pâté with salad served together with flavourless bread tasted, compared to what we had expected, quite boring. But therefore, the pizza and the house made ravioli with boletus and ricotta were again quite good.
Conclusion: the food is really not a reason to claim, also the choice is quite large. What deterred us a little is was the sitting atmosphere. Even if would not have sat right in front of the kitchen, in Barbaro there are many quite small tables that are placed very close to each other, so that one prefers to take a seat at one of the places at the columns without any neighbours. Due to the many people who have to be dispatched there, the atmosphere gets a little hectic. A pitty somehow. Here, one does not have the feeling to be the centre of attention.
Paulusstube: The oldest Heuriger of Vienna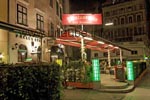 The building in which the Paulusstube is accommodated at the Walfischgasse 7 in Vienna eists since the year 1684. Maybe it is also the long tradition that is noticeable here not only in the way to prepare a Wiener Schnitzel. We had here one of the best schnitzel we ever had and we surely also experienced - as many others also - many other schnitzels to compare with. This one is too good to be true!
Also the atmosphere and the waiter do not leave any wish unattended. As the prices in the centre of Vienna are rather high, one can also expect a little more. The house music surely also contributes to the rustical atmosphere. As there was a lot going on there, we were lucky to get a table at all without any reservation. It is really remommendable to reserve a table previously. We would surely not try our luck like that again.
Having Breakfast in the Cafés of Vienna
As we did not want to pay the expensive prices for having breakfast, we went to different cafés for breakfast. Here, we could get introduced into the long tradition of the coffe houses of Vienna. The partly very large cafés were really cosy and comfortable with their seats and lamps of grandma's times and all the people reading newspaper. There is also no need to walk a lot, as these cafés are located at almost every corner.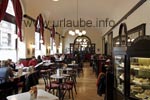 As an original breakfast of Vienna, we got any time, beside coffee, 2 rolls, jam, ham, cheese and sometimes also an egg. This was completely sufficient and any time it was very tasty. We indeed like to help ourselves several times at an abundant breakfast buffet, but this often leads to a real gluttony so that in order to do some viewing tours one has to get fit again.
Having breakfast in a café of Vienna resulted to be very pleasant due to the fact that in the mornings, we first started walking and made or first viewing tours during an hour and then we had breakfast in the proximity of the place where we were. By this way, the breakfast also was the first break of the day and afterwards we were really recovered and started further tours up to the lunch or cofee time. It was real fun to have breakfast in the cafés of Vienna! And in our next visit to Vienna, we will book again an hotel without breakfst and surely discover some further nice coffee houses.