British Columbia's South
Through the province parks into the Rocky Mountains

Our round trip through British Columbia starts in Vancouver, traveling first in the South and stopping at three major points: first, we visit the little town of Hope, follow the Fraser River to Kamloops, then east to the city of Kamloops, visit lake Okanagan and the town of Kelowna afterwards and, on the way back, the small town of Revelstoke.
Stop 1: Hope
We started from Vancouver on Highway 7 eastwards in direction of Hope. As Vancouver is partly enclosed by a cascading mountain, the density of buildings decreases rather quickly when driving out of town, which also can be said about traffic density. Having driven for 100 kilometres along Fraser River, we reached our first destination; its impressive panoramic view should mainly be known to cineasts as Canada is by far less costly for the production of Hollywood movies than the neighbour country, the USA.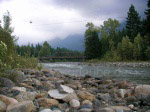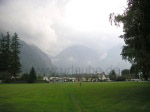 In the shadows of clouded The Old Settler (2,132 m) that quietly reposes over the thundering waters of Fraser River, among others the first part of the Rambo trilogy was filmed; Even today, this sleepy village bases its advertisements on this past, although it has more to offer, e.g. a wonder of nature. Once a year, during the migrations of the salmons, thousands of these fish that weigh up to 30 pounds can be seen here on their way from the Pacific Ocean to their spawning grounds; We were a little late however, and only an impresive skeleton was evidence of the past, exhausting voyage of the pacific salmons.
The stay in Hope lengthened somewhat as a member of our group had forgotten his purse in a restaurant in Vancouver. Sadly, it was the purse that had to feed us all and it therefore had to be retrieved. Stroliing through Hope was worth while as we discovered a sign at the end of town with the thoughtful inscription "Discover what lies beyond Hope", but after waiting for six hours we were simply bored.
Stop 2: Kamloops / Okanagan / Kelowna
From Hope we continued on the Trans Canada Highway to Kamloops, 250 kilometres away. On this route, Fraser River cuts its way in a deep valley (Fraser Valley with an overall length of 270 kms, the breathtaking beauty of which can be enjoyed on one of the numerus camping sites. One of the most important railroads towards Vancouver also runs through Fraser Valley; it is used by incredibly long trains with several engines.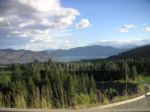 At Cache Creek, we left the course of Fraser and approached Kamloops in eastern direction, the 4th biggest city of British Columbia with 92,000 inhabitants. It is one of the central intersections of the country as Trans Canada Highway, Yellowhead Highway 5, Canadian Pacific and Canadian National railways as well as North and South Thompson Rivers (forming Thompson River from then on) meet here;Additionally, there are a lot of provincial parks with big lakes and camping sites around the city.
Starting in Kamloops, we made a detour on Highway 97 southwards to Lake Okanagan 150 kms away. It lies embedded in a deep valley (Okanagan Valley) in which the retained warmth offers ideal conditions for the growing of wine and fruit, not taking into consideration that Lake Okanagan is a great bathing paradise in a magnificent scenery. Also, according to a legend, the sea monster Ogopogo is said to live there, although we did not see it.
Situated on the shore of this 140 km-long and 5 kms wide lake is Kelowna, with 105,000 inhabitants British Columbia's 3rd largest city. There is a very distinct night life in the summer months, especially in the harbour area. We also had our first party night in Kelowna and felt like somewhere around the Mediterranean. Imagine an illuminated beer garden with a view over the harbour, the air is warm and humid, dozens of people are dancing near the bar and music can be heard outside through the open windows. Such places can be found by lots in Kelowna. We made the way back to our motel by taxi in the end as surely nobody of us would have been allowed to steer a car any more.
Stop 3: Revelstoke
A little later than intended, we went back in direction of Kamloops using the same road (Highway 97) the next day. Having arrived there, we followed Trans Canada Highway in eastern direction and reachd the small town of Revelstoke after about 200 kilometres, which is situated on the banks of Columbia River that has been impounded to form the 120 kilometres long Lake Revelstoke. Revelstoke itself is not that interesting, but it offers a fantastic view on the 3,000 metres-mountains of the Columbia mountains and makes look forward to Canada's most beautiful regions, Banff and Jasper National Parks in the Rocky Mountains.
Revelstoke is mainly known for its railway history (it was founded in 1880 during the construction of the Canadian Pacific; there is a railway museum known all over the country) and a meteorite impact in 1965. The nearby Mount Revelstoke National Park comprises parts of the world's only temperate interior rain forest, steep and cragged mountain slopes and is home to reindeer, grizly and Rocky Mountain goat. Up to then, we thought the landscape was incredibly beautiful, but what followed now can hardly be expressed by words. Anyone who has been to the Canadian Rocky mountains can understand why the Indians have holy mountains and believe in something divine in many things.