Vancouver Island, Victoria und Vancouver
Wonder of nature and agglomeration

At the end of our round trip through British Columbia, we visited the two big cities of Victoria and Vancouver and even include some whale-watching in our program.
Stop 8: Vancouver Island / Victoria
On the so-called Sea-To-Sky-Highway 97 linking the ocean and the mountains we now left the world of glaciers, water falls big mountains and deserts behind us and approached the bay of Howe Sound which represents the typical characteristics of British Columbia's West Coast with its fjords and islands along the shoreline; We drove from Tsawassen, which is only one kilometre away from the US-Canada frontier through the Inside Passage, the waters between the continent and Vancouver Island with their many islands, to Victoria.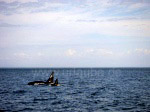 Along with motor boats, water planes are the dominant means of transportation here as many of the settlements and houses along the cliffy coast can only be reached on the water. The houses on the cliffs seemed to be the ne plus ultra of housing one can own in a lifetime to us. The fact that the "for sale" signs were turned seawards first astonished us a little, but considering that we were on a rather large ferry and that trees usually do not buy houses, this also made sense.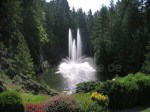 Arriving in Victoria, we saw a very friendly and appealing scenery with small harbours, coloured houses and many English-style buildings, among them the pompuous parliament building. In summer, street artists can be found everywhere in town, especially around Inner Harbour, which is also starting point for a very special boat trip; A whale-watching-tour on Vancouver Island by speed boat really is recommendable as even the feeling of driving over waves that seem hard as concrete at a speed of 70 kilometres per hour is unique.
After we had been packed into thick red suits that were intended mainly to protect us from the cold and from drowning, the boat, the "Prince of Whales" - oh what pun! -,occupied by 15 persons, showed its powers. A short while before, we had been told that orcas had been sighted, wich made us look forward even more. Passing seal colonies and the sea lions' rocks, we started our way to the open sea, the helmsman demonstrating his skills concerning the nut-shell that was carrying us by immense leaps and sharp bends.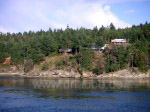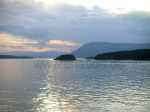 Suddenly, two back fins appeared from the depths of the sea: two huunting orcas, we were told. We chased them for about an hour and approached them up to some metres; Really a good idea molesting hunting orcas, we thought remembering we had to sign a contract before the cruise that was about us making the trip on our own risk. The tour, however, was more than just impressing, as one could see a white head eagle, let alone the views of the scenery.
Another destination on Vancouver Island is Butchart Gardens, a botanical garden that is over 100 years old and has a paradisiac atmosphere. Along with fountains, flowers of all colours and theme gardens such as a japanese one you can also see sequoias that can become over 100 metres high and are among the largest trees that exist.
A trip by car on the highway through regions without human presence is also an ideal way to take in the impression of wilderness, but beware: there are about 10,000 black bears and other predators on Vancouver Island. A tourist keen on experiences will spend one evening in Victoria in Strathcona Hotel that houses several inns and pubs. It is a perfect place to meet people of the most different origins and with the most bizarre personal histories.
Vancouver
After two days in Victoria we made our journey back to Vancouver on the water, admittedly somehow wistfully. Once again, we were passing a lot of nature's beauty, but it soon turned out that the big city of Vancouver did not necesarily represent a strong contrast. Situated between the Pacific Ocean and the Cascade Mountains, the city is an ideal symbiosis of nature and city life where nearly all car drivers stop at any place to allow a pedestrian to pass.
The inner city has a very clear structure, public transportation is perfectly equiped and after just one day you have the feeling to know your ways. Outside the centre, which often offers surreal views onto the mountains and the sea, there are large parks, Stanley Park being the one most worth visiting. It offers a unique view over Fraser River and the 45-metre-high Skybrige over it that is, among others, is used by the driverless Skytrain, one of the central parts of the public transport system.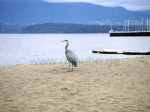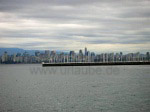 In addition to its beaches (e.g. Sunset Beach in the West End), Vancouver has, among others, a shopping mall (Robson Street), an old town (Gastown) with its landmark, the world's first steam clock, a chinese quarter (Chinatown) (the latter two should better be avoided in the evening), a market quarter(Granville Island) that is home of British Columbia's first german brewery and the EXPO area dating from 1986. Furthermore, Vancouver is the centre of Canada's music and film industry (Jean-Claude van Damme was sitting in a café and was telling somebody about "the movies", sounding rather important).
In Vancouver, we hurled ourselves into night life once more and went to a concert by the band Helmet in "The Drink" club after such a lot of nature. It was the first heavy metal concert without people standing on the street with their bottles of beer or smoking. Both is considered inappropriate and prohibited by law in Canada. There is an events calendar for all sorts of cultural events in Vancouver that you can get nearly everywhere on the streets, given it is not just sold out.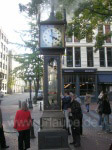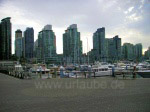 The best way to get to know the city is just to start walking around as there is something worth looking at everywhere. Historic and modern buildings are combined skilfully so that it often takes a second glance. In this way, we also passed the sacred halls of Rock 101 Vancouver and were able to thank them for the musical entertainment silently. The city also has to offer something to sports fans: BC Pace Stadium is home of BC Lions (football), GM Palace of the Vancouver Canucks (ice hockey). Being an ice hockey fan myself, I knew the Canucks had to play a home match during our stay; alas, apart from my girlfriend and me, nobody was there on the respective day as the whole NHL was on strike.
A shattered dream! What is also attractive about this city is that there are water surfaces almost everywhere in town, which creates, together with the permanently warm and mild climate, a holiday feeling of a special kind. It adds that the skyline and the surrounding lush nature form an optical contrast. Upon this impression, the round trip ended that all participants will bear in mind. In any case, Vancouver ranks on the first place in my personal list of most beautiful cities together with Barcelona, and I am sure I have not been there for the last time.