The West Coast from Toulon up to Marseille

From Toulon, one gets in approximately one hour to Marseille by taking the toll road. But the way is much more beautiful by driving alongside the coast. By this way, one pases some really beautiful bathing resorts and all of them invite to a small side trip to the beach.
On the road between Toulon and Marseille there are numerous lay-bies from which one has a very nice view to the bay and to the mountains. The bays are all located at the seaside, so that in direction to Marseille, one has to cross the opposite track repeatedely in order to stop. Thus, those who start the stretch from Marseille in direction to Toulon are in advantage.
Sanary-sur-Mer
One can barely leave the big city Toulon in direction to Marseille, and suddenly, one is already in another bath resort: Sanary-sur-Mer and Six Fours are two small cities that grew together, both invite to bath. Here, one finds sand beaches with slides, boat rentals, etc.

But Sanary-sur-Mer also invites to a walk in its oldtown. In the narrow alleyways there is a vivid, nearly hectic hustle and bustle; As a tourist, one finds here cheap refreshments, restaurants, shops etc.
Fans of the classic German literature surely know Sanary-sur-Mer in a different relation: Sanary-sur-Mer is considered as exile capital of German authors during the second world war. Here, numerous German and Austrian authors met who escaped from the national socialist regime, thereunder also Thomas Mann.
Bandol
A very nice bathing resort between Toulon and Marseille is Bandol. The small city has barely 10.000 inhabitants and appears to be very posh: One finds many beautiful houses with nicely arranged gardens. One with a lot of palms surrounded beach promenade invites to bath. The place is located at a beautiful bay with a free sand beach.
At the beach- and harbour promenade there are numerous restaurants and shops the way it should be for a typical bath resort in south France. Bandol generally invites to stay over night; There are numerous more or less cheap middle class hotels on the street. From Bandol, one gets very fast to Marseille and Toulon - thus, for the visitors of this city, here is a cheap possibility to stay over night.
Some know Bandol in a different relation: in the hinterland of Bandol, an excellent wine is cultivated. The Bandol is either available as rouge as also as blanc and rosé. Among wine connoisseurs, this brand has a very good reputation. During the trip to the hinterland one comes across to several winegrowers who invite one to a free winetasting and sell the wine for a cheap price.
La Ciotat
The biggest place between Toulon and Marseille is the small city La Ciotat. More than 40.000 inhabitants live in a city that once was, concerning the harbour, in great competition with Marseille. Still today, the big harbour impresses with its big crains for loading and unloading the ships. For the tourists and people on holiday there is, beside the big industrial harbour also a marina for barely 1.000 boats.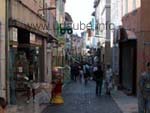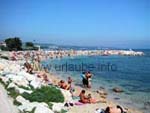 Behind the new marina there are dreamy beaches with small pebbles. It is very pleasant to lay on them, as they are nearly as soft as sand but in case of wind it is not blown away or gets on the towel. Right in front of the beaches and the new harbour, a long extended promenade invites to a walk. Here is also the Office du Tourisme, where one can get information and a city map for free.
In La Ciotat there is a beauiful pedestrian area, the Rue Des Poilus (see picture). The street ends at the promenade of the old harbour (Vieux Port). Here, numerous restaurants and cafés invite to have a break. It is funny to sit there for a while and watch the goings on the street and the harbour.
Cassis
The apparently most famous place between Marseille and Toulon is without doubt Cassis. But there is so much to tell, to photograph and to see about this place that I dedicated an own page Cassis to it.