Cavalaire-sur-Mer - Sensational Nightlife

Who has ever heard from the bathing resort Cavalaire-sur-Mer? Where is Cavalaire-sur-Mer located at all? And why do I write about a place that nobody knows although there are plenty of better known places at the Côte d'Azur? Those who drive alongside the Côte d'Azur in south-west direction and somewhen lefts the peninsula of St. Tropez behind, will get to Cavalaire-sur-Mer.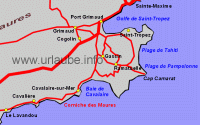 During the main season, St. Tropez and the peninsula are a very exhausting matter. Many times, there is a traffic jam of several hours in order to get into St. Tropez. It does not take less time to get out again. Thus, a side trip to the closely located bathing resorts could be a nice solution. This is the way one finds Cavalaire-sur-Mer. Those who drive to nach Cavalaire-sur-Mer will be first delighted by the long extended beach; At the upper part of the beach, there is the typical long extended promenade at the Côte d'Azur with the arterial road behind it.
Cavalaire-sur-Mer has a dream sand beach with cristal clear Water. Any 50 m there are showers. As there is the city centre right behind the beach, one can buy at one of the numerous kiosks and supermarkets some food and beverages.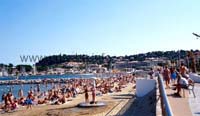 What is now this Cavalaire-sur-Mer? I would describe this place as a top-modern but faceless place. There are no foreign tourists in this place. Therefore, the French people swarm. It must be a kind of place of refuge for the national people that want to avoid the touristic hustle and bustle in St. Tropez and in the big metropolis of the Côte d'Azur.
Cavalaire-sur-Mer has less than 5.000 inhabitants; but during the high season a multiple of those live in this place.I realized that Cavalaire-sur-Mer is not a classical touristical place latest when I looked for an hotel. The Office de Tourism was already closed, after the motto: nobody will come anyway. Despite of a longer search, I only found two hotels in the city, whereby I was so deterred by the exterior of one that I even did not step into it. I finally sayed over night in the only hotel that is located right at the beach. it is called Hotel Les Alizés (see following picture).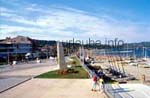 In this old building there are rooms from 80 Euro, 120 Euro and 160 Euro. For 80 Euro one gets an uncomfortable, cheap dosshouse, for 160 Euro one gets an air-conditioned room with view to the sea. For 120 Euro I got a double room with breakfast that was acceptable; Not a bit of luxury, but ok for one night. But I could not spend a holiday in thios hotel. But the hotel has a first-clss fidh restaurant that was not at my price level, not even excepionaly.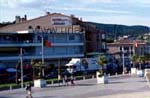 Meanwhile, I found out that there are further hotels in the city but not right at the beach. Thus, where do the tens of thousands vacationers stay over night if not in hotels? Cavalaire-sur-Mer offers an abundance of apartments and villas for rent or as a permanent residence. Those who want a holiday flat in Cavalaire-sur-Mer for the sumer time has to book it already in the middle of the winter; in spring time, the resort is booked up.
So far so good, it sounds like a common-or-garden bathing resort at which one only stops by passing by chance. But the best is yet to come. In the evenings, there is so much party in Cavalaire-sur-Mer as I have never seen in another place of the Côte d'Azur. I was already amazed during the day time how crowded the beaches were although there are barely hotels in this city. But when we walked in the evening in direction to the harbour, we could not believe our eyes: the whole port area was packed, the crowds rushed through the shopping miles close to the harbour.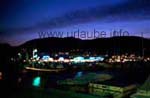 Cavalaire-sur-Mer has a very big harbour with far more than 1.000 anchorages. During the day, there is nohing happening in the whole harbour rea, but in the evenings, one finds one restaurant after the next one. Numerous live-bands entertained the Guests in a quality as one rarely experiences. I made the following picture from the other side of the harbour. I think one can imagine what goes on there at nights.
I actually only stayed in Cavalaire-sur-Mer due to the reason that after an exhausting tour through the peninsula of St. Tropez I only wanted to have some quietness in a place with a beach. But due to the fantastic beach and the unique nightlife, the stay in Cavalaire-sur-Mer became an absolute highlight at the Côte d'Azur and I can only highly recomend everybody to do a side trip to this place for one night. In Cavalaire-sur-Mer there is a lot of party - I mean, a lot of French are having party here and not the tourists.