Cape Martin and Roquebrune

By starting the tour alongside the Côte d'Azur in Menton, the next bigger city is Monaco in western direction. Thus, one has - by coming from Italy, barely stepped into France, then one already leaves the country again and gets into the second smallest state of the world. The stretch from Menton to Monaco can be confidently done by foot; The way to there is less than 5 km. On the way to Monaco, one pases two very special spots of the Côte d'Azur: Roquebrune and Cap Martin.
Roquebrune
The small place Roquebrune is actually nearly not dividable from the neighboured Cap Martin; both communities grew together to a double community with barely 15.000 inhabitants.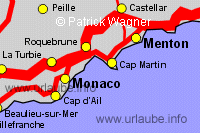 Up to the second half of the 19th century, Roquebrune belonged to the Italian county of the Genua of today. Consequently, at this time, the place's name was Roccabrune in Italian language. But at this time, the place was not significant. The place did not become significant until the first big hotels and villas appeared.
Today, Roquebrune mainly offers two sightseeings: here, the oldest oil tree of the world is supposed to be. This gorgeous exemplar is supposed to be more than 1.000 years old. But the castle of Roquebrune is much more interesting with its 6 gates in the surrounding walls.
Roquebrune developed to a pleasant bathing resort in which one can cozily ramble through the alleyways and relax on the beach - just the opposite of the neighboured place Cap Martin.
Cap Martin
The small place on the cape is one of the most posh and snobby addresses of the whole Côte d'Azur; Already long time ago, the crowned and the Empresses shook hands in Cap Martin and met for a coffee party.
Still today, Cap Martin is a villa area that is completely isolated from the tourism. There is nothing to view; but one can have a walk through the villa quarter and gaze at the other people's prosperity.
From Cap Martin, one has a fantastic view to the bay of Menton. But the view to the neighboured Monaco is much more imposing, by hiking on the Sentier Touristique from the cape tip in direction to Monaco. This hiking path is really an adventure: the interplay of the beautiful nature, rocks that extend up to the sea and the view to the state Monaco is indescribable. Additionally, there are the big luxury liners that go anchor in the sea in front of Monaco.
The probably best way to view Monaco is by marching from Menton, passing the Cap Martin up to the beach of Monaco, have a break there and in the evening, after an extended viewing of the princedom, to travel back by train to the low-priced Menton.