Lagos, Ponta da Piedade

A visit to Lagos is a must during the stay in Algarve. With approximately 10.000 inhabitants, Lagos is certainly only a small city but it can look back to a long history and for several times it was the centre of the world. In fact, Lagos is more than 2.000 years old. During the time of Heinrich the Sailor, Lagos was the centre of the world, as from here, the famous portuguese sailors departed to the sea. While in Sagres, a city that is located further to the west, the sailors were trained, in Lagos, the fleet and the big harbour were located.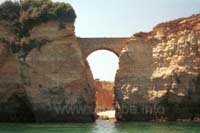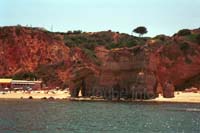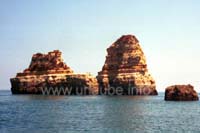 Today, Lagos presents itself as a small nice city where one can spend a nice day. What is an absolute must is the viewing of the Ponta da Piedade, a 20 m heighted cliffscape with some bizarre bays and hidden beaches. Ponta da Piedade can be certainly explored on foot from above; but from the sea, the lava domes and cliffs are much more imposing to look at.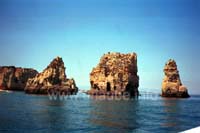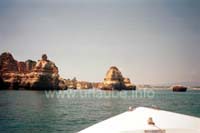 From Lagos, one can start some boat tours to the cliff sides of aproximately one hour. Thereby it is recommendable to take a fishing boat. The fishermen are very friendly and take one straight to Ponta da Piedade; The cliff domes partly have the shape of some animals. With those small fishing boats one can partly navigate between the rocks and straight to the pituresque beaches that are very hard to access.
For the boat trip one should not miss to take some sun lotion and a sun hat. Due to the air-stream of the boat one does not notice how strong the sun burns down on one, and this for more than one hour!