Sagres, Cabo de São Vicente

Now we travel to the end of the world, to Cabo de São Vicente, the south west tip of Europe. The world ends here; this is at least the way people thought more than 500 years ago. Today, for the Portuguese neither the world nor Europe ends here, but just the opposite: this is the beginning of the world and the beginning of the continent.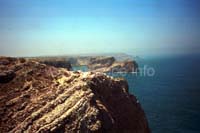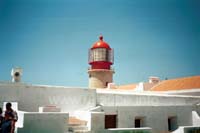 The coast at the most outer tip of Europe are not inviting at all for bathing lovers. It is rough, steep, rocky and windy. The porous rocks partly fall more than 50 m deep into the sea; At the few beaches that are very hard to access, there is a permanent and strong surge. Thus, the sailors coming from the Atlantic Ocean will find Europe deterring if they face the Portuguese south west coast.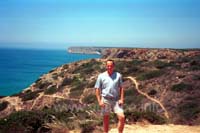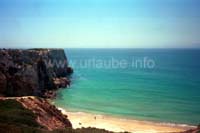 But just these steep and rough cliff sides that are so characteristical for Algarve are what provide the attraction of this area. By driving from Lagos in direction to Sagres, then to the Cabo de São Vicente and finally alongside the portuguese west coast to the north, one will repeatedly find some imposing view points on rocky cliffs and surges that strongly foam the sea.
On the road of a length of more than 5 km from Sagres to São Vicente there is the Fortaleza do Infante. On this complex, the school of Heinrich the Sailor used to stand. The wind rose of a size of 20 m at the ground of the complex is very impressive.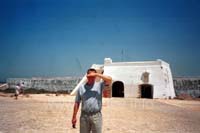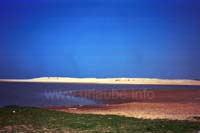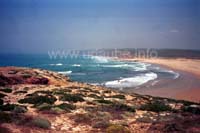 At the end of the road, one arrives to the former end of the world . At the Cabo de São Vicente, there is one of the brightest light houses of the world. Those who are lucky can access the light house and enjoy a panorama view. At this place, numerous junk goods merchants settled here. Everything is sold here, from the thick Norwegian jumper up to the german bratwurst.
What I found the most impressive at this place neither was the light house nor the huge cliff lines but simply the knowledge that in one direction, there are 10.000 km of land while in the other direction there is nothing but water for 5000 km and that once people really thought the world ends here.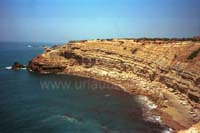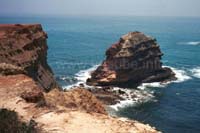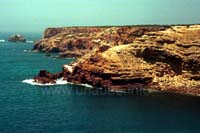 The drive from Lagos to Sagres is very impressive. Those who have some time left should not take the same way back but drive from Sagres alongside the Atlantic coast to the north up to Alfambras and from there back to Lagos. On this stretch there are mostly strong winds blowing, but one is rewarded by a fascinating view to the sea, the sheer faces and the surges. At the Portuguese Atlantic coast, there are numerous beaches but they are not easy to access; due to the strong wind and the strong surge, bathing is anyway not a pleasure.