Sotavento - a Dunescape

Sotavento is called the part of Algarve which beaches are more marked by dunes than by cliffs. Sotavento extends from the capital of the district Faro in eastern direction up to the Spanish border and to the north up to the river Ribeira de Foupana; While in the western part of the Algarve, the so-called Borlavento, there is no beach that is not surrounded to the north by steep cliff sides, in Sotavento, there are many widely surfaces sandbeaches.
The capital of the whole of Algarve ist Faro. Today, the city has more than 30.000 inhabitants and looks back to a history that is more than 2.000 years old. Although already the Romans built a harbour in Faro, the actual city development did not start until the arrival of the moors in the 8th century after christ. Since 1756, Faro is the capital of the southern province of Portugal. Also today, Faro is a capital with many administrations.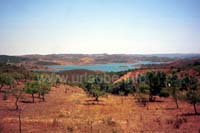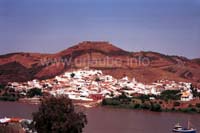 Faro itself is not an attractive city; As a tourist, one lands in Faro at the international airport, but then, one rapidly leaves the city. The most beautiful part is, without any doubt, the huge natural protected area Reserva Natural da Rio Formosa, that extends from the south of the island up to far into the east.
By driving from Faro to the east (of course not on the motorway but on the coastal road), one passes some small cities and also finds numerous beaches alongside the coast. As nice and sandy the beaches are, I was not impressed by any of them. The real attractive beaches are only accessible per boat: on numerous small islands and behind some large lagoons one finds the desired vacation paradises.
By continuing driving to the north, one comes across a small city Castro Marim, that, due to its two their impregnable fortifications, were highly significant during a long time. The area around Castro Marim is incredibly dry. Visitors are really deterred by the dried salt lakes.
Shortly before the Spanish coast, a road leads to the north alongside the border river Río Guadiana. By driving on this road approximately ca. 35 km to the north, one gets to the place Alcoutim. The road is a former Roman road; it leads to an absolutely calmed, barely inhabitated and undestroyed landscape. This area is extremely dry and arid. The lake Barragem de Beliche appears as a huge oasis in a desertscape. The place Alcoutim somehow appears to be totally abandoned. But by having a look over the river to the Spanish place Sanlúcar de Guadiana , one can imagine what was going on here some hundred years ago: two small places, each with a castle and a river in between...