12-Day Hurtigruten-Boat Trip
With the Hurtigruten-Ship from Bergen to Kirkenes and back to Bergen

Between the years 2002 to 2005, I issued together with Manfred Hofmann from Eberbach a fantastic travel report with some sensational pictures of a 12-days dream journey with the Hurtigruten alongside the Norwegian coast. Until now, Manfred has already done this trip four times, thus he is practically a regular guest on the Hurtigruten ships. These Norway pages are already our second common project; the first website that we have created together was about the country and people of the island Madeira.
But Manfred is not only a regular guest on the Hurtigruten, but he is also a passionate fan of the Hurtigruten ships. This means that he is continuously informed about the changes in the shipping route, new ships, schedules, etc. Due to this, this page is continuously updated.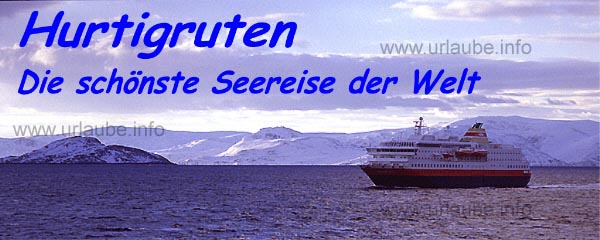 If you, dear reader, have some question or comments concerning our report, please write an e-mail to Manfred. He will be pleased by an suggestion, of course he specially is by a praise for his fantastic pictures. But now I want you to have good fun with our Hurtigruten pages and hace a good trip!
12 websides with fantastic pictures
For each day of our 12-day circular trip from Bergen to Kirkenes and back there is a side with nice pictures, a map cutting and an illustrative text.












The pictures can be amplified by clicking on them. From the main menue at the left it is possible to get to the page of each day. There is also a page about the history of the Hurtigruten. Moreover, there is a chapter with tips how to treat and/or survive seasickness.
At the bottom of each page there is a button to get to the next page. By this means, it is possible to take part on each day of the 12-days journey.